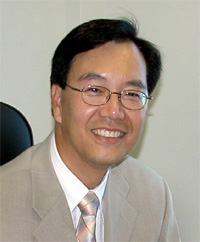 Selwyn Lo
Telephone: (905) 881-3661
Fax: (905) 881-5808
E-mail:
---
 A Graduate from the University of Toronto, Selwyn went on to obtain his professional designation as a Professional Accountant (CMA) and a Certified Internal Auditor (CIA).  After years of working as a Manager of Internal Audit in major Canadian Corporations, Selwyn joined Family Trust Corporation in real estate sales in 1986 to pursue his interest in real estate.  That same year and the year after, Selwyn was one of the top 100 agents in Family Trust's Ontario Operation.
In 1987, Selwyn left for other smaller Commercial Real Estate brokerages and was the top agent in these companies, achieving multi-million dollar sales award year after year and became a key person in their commercial sales and leasing activities.  Activities included sale and leasing of offices, industrial condominiums, commercial retail and restaurant space, indoor mall space, plazas, mix-used retail/residential complex and warehouses, etc.  In 1990, Selwyn obtained his Professional Brokerage License.  In order to enhance customer service, in 1994, Selwyn formed a property management company looking after real estate investments for his clients.
In 1999, Selwyn joined Homelife T S  Realty Inc. due to referral from other members of CCCRN (Canadian Chinese Commercial Realtor Network), in which Selwyn was the Corporate Secretary.  In the years after, Selwyn won numerous sales awards from the company and eventually managed the company.
In 2003, Selwyn became a Director of CREPSO.
In 2005, Selwyn left Homelife T S and found Homelife Broadway Realty Inc. Brokerage at the Leslie/16th Avenue are